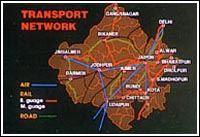 Background
Rajasthan has 19 airstrips and 128 helipads. Seven new airstrips have been developed under relief works this year. It is now proposed to seek private investment for operating air services in the hinterlands for greater penetration of tourists.
Location
Where there are airports and helipads.

Incentives
Such service, especially in season, will provide one of the most vital infrastructure links in the state.