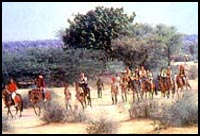 Background
Horses were a traditional means of transport for the warrior Rajputs and safaris have been popular in the Mewar and Shekhawati regions. A local breed of hardy horses- the Marwari- is being bred for polo and safaris.
Location
Jaipur, the Shekhawati belt, Udaipur, nagaur and Pushkar

Incentives
A popular outdoors activity, it is still largely untapped and from breeding horses, stud farms to safaris, the scope is open to this very exciting field.