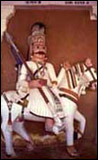 Idol of Shri Gogaji :
Gogaji Fair is held in the memory of a popular hero of the area who is known as Goga Veer among the Hindus and Jahar Peer among the Muslims. The Kayam Khani Muslims claim descent from him and regard him as a peer (saint). The devotees of Gogaji can be found in Uttar Pradesh, Punjab, Madhya Pradesh and Maharashtra. In Gujarat, an annual procession is taken out in honour of the great warrior.
Gogaji is popular as a snake-god and almost every village in Rajasthan has a Than (sacred place) dedicated to him. Staunch believers have faith that invoking Gogaji will help to cure a snake bite or other diseases and many visit the Gogaji Fair to make a wish or for expressing their gratitude when their wishes come true.