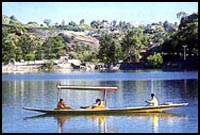 Background
Though it surprises many people, Rajasthan has a large number of lakes that are ideal for cruises on houseboats. Only Udaipur has an active water-transport culture-though no houseboats.
Location
The following lakes: Anasagar (Ajmer), Siliserh (Alwar), Ramgarh, (Jaipur), Balsamand (Jodhpur), Fateh Sagar, Jaisamand at Udaipur.



Incentives


Houseboats, typical of Srinagar, have proved popular in Kerala's backwaters in recent times.
Houseboats would cost Rs 30-35 Lakh each to commission .